4 simple tips to make your bales go further
The more palatable feed is to stock the more live weight gains, or milk is produced from the same amount of dry matter feed out. We provide you with 4 simple tips to increase the palatability of bales when feeding out.
1. Feeding along a fence line – By feeding out alone a break fence, or fence line stock eat from one side of the windrow and it eliminate stock from trampling on the feed. Trampled feed is less palatability for stock. Feed contaminated with dirt is bad f or stock health, and causes problems such as worms and feed refusal.
2. Feed out on a hillside – Hillsides are much less susceptible to pugging of the soil. When feeding on pugged soil the feed can be contaminated reducing palatability and increasing waste, this is especially important during winter or during periods of wet feeding conditions, as stock are more likely to trample on the feed for comfort. This also reduces major pasture damage. The use of mudguards is important when operating, in wet conditions to reduce the possibility of contaminated feed.
3. Teasing the feed out correctly – the more fluffed up the feed is, the easier to eat and lower the energy required to consume feed. Some feeding out systems simply unroll a bale which forms a mat type windrow, other systems like the Chainless bale feeders tease the feed apart rather than unroll which also reduces the waste left on the ground.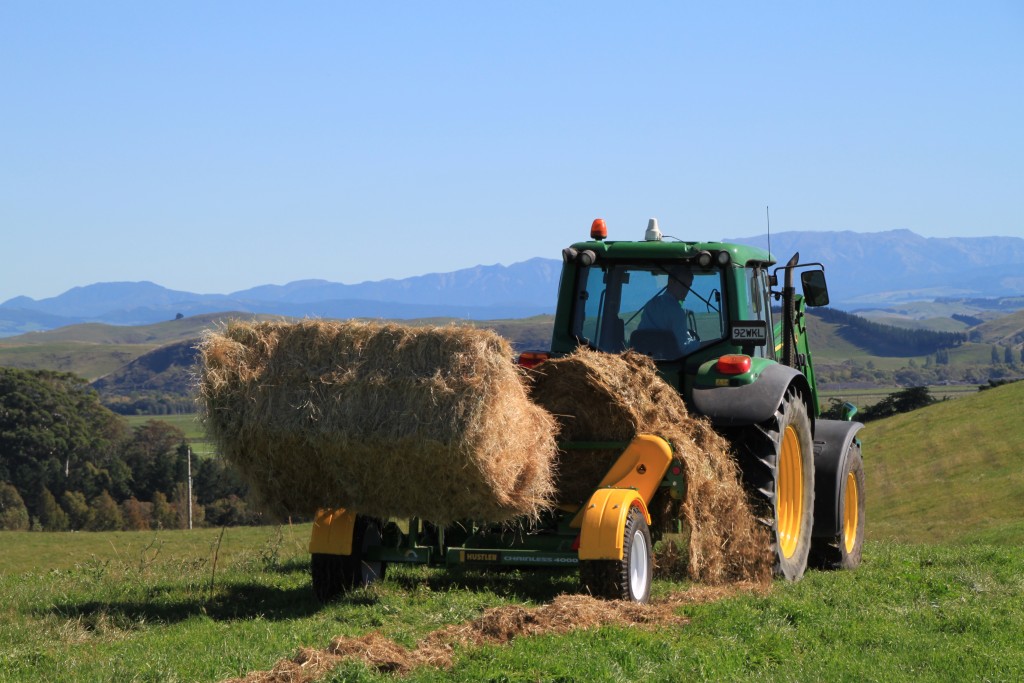 4. Correct storage – Hay stored in the weather can reduce in quality very quickly, and stock refuse a large portion of the bale wasted. The cost of storing hay bales in a barn or under a cover is substantially lower than the cost of the waste that occurs from being stored out in the weather. When storing bales, be it balage or hay, storing them on their flat side, stops the bale from being distorted over time, making them easier to handle. It is important that storage reduces the risk of mould developing in the bale, because this can cause abortion with breeding stock.